Azusa Pacific – 1899 Dining Hall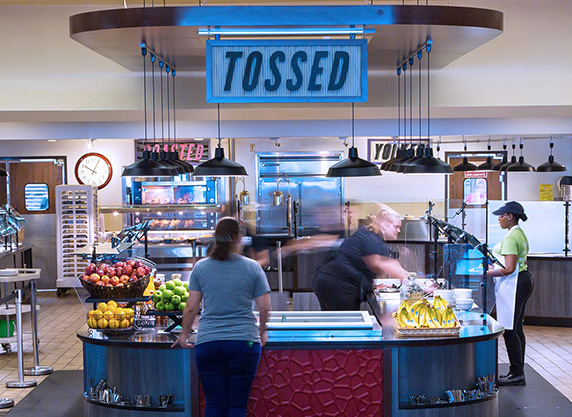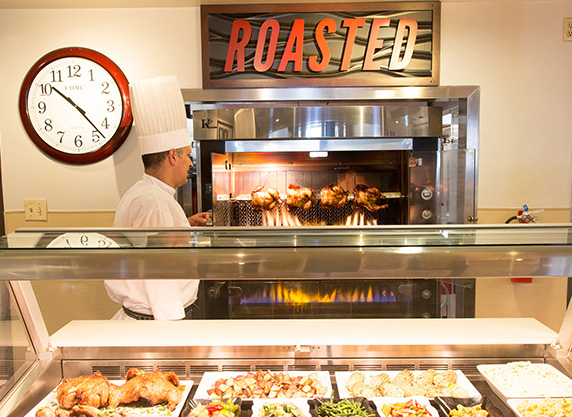 The 1899 Dining Hall at Azusa Pacific University (APU) in Azusa, CA was looking to upgrade dining at the University's 1960's era servery. APU wanted to create a welcoming sense of community to their AYCTE operation that featured food-themed concepts, display cooking and many local ingredients. The dining hall has about 850-900 transactions per day.
Partners by Design (PbD) was brought on board and worked closely with Azusa's Executive Director of Dining Service and the Director of Dining. In addition to design and food service consultancy, PbD's scope of work included a remodel with equipment replacement, millwork additions and new signage, along with adding 50 seats, which brought their seat total to 300. The stations included Rotisserie, Yoked with adjacent Self-Serve, Wok'd, Pressed, Frosted and Tossed. Three of these stations have an exhibition-style cooking station that allows the chefs at Azusa to cook the students' meals right in
front of them.
There was less than two weeks for the equipment install before the dining area was to be open. And in addition to a tight timeframe, PbD had to be conscious of plumbing, electrical and budget restraints. APU was not able to cut through the floor to create new plumbing lines; so removable tote tanks were used where additional drainage was needed. The electrical capacity could not be significantly changed, which impacted the overall equipment package. Much of the power came down from the ceiling so PbD fabricated three-inch stainless steel power poles to give the servery a modern look, while concealing the electrical lines.
To create a sustainable design all the old equipment was replaced with Energy-Star rated equipment and new LED lighting was installed. The school is cooking in smaller made-to-order batches, which turns over a consistently fresher product for their guests.
Since the opening, the Azusa Pacific University's 1899 Dining Hall has enjoyed 25 percent higher traffic, higher revenues and improved customer reviews.